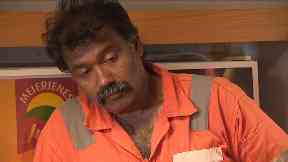 In June 2016, the ship was detained at the same harbour for the same reason after it was contracted for work by BP.
The situation was resolved comparatively quickly that time, with GOL Offshore paying the crew's overdue wages of around £175,000 by August, allowing ship and crew to leave.
Then, last October, the Malayvia Seven returned to Aberdeen after being hired by a European oil company and was detained again – this time for a far longer stay.
The ITF says at times more than half of the non-UK vessels in the North Sea employ crew on less than the UK minimum wage of £6.70 an hour.
But often they are not paid at all, with sailors aboard a third of the 17 non-UK North Sea vessels inspected by the ITF in Scotland in 2016 owed money.
Speaking anonymously last November, when the rest of the crew of the Malayvia Seven, a crew member told STV News: "Nobody knows when we will be paid. Nobody knows when we will go home."Now, following Aberdeen Sheriff Court's ruling on Thursday, it is hoped the end is in sight.
Stay up to date with Oil and Gas Vision for all of the up to the minute Oil and Gas News.